Denna sida finns för närvarande inte på ditt språk. Du kan översätta den automatiskt med Google Translate. Vi ansvarar inte för att tillhandahålla denna tjänst och vi har inte kontrollerat översättningsresultaten.
Kontakta oss om du behöver ytterligare hjälp.
Renishaw focuses on five-axis measurement at Control 2012
Renishaw, a world leader in precision engineering technologies, will be exhibiting its extensive range of metrology equipment at Control 2012 which takes place in Stuttgart, Germany, from 8 – 11 May 2012.
3 May 2012
Renishaw, a world leader in precision engineering technologies, will be exhibiting its extensive range of metrology equipment at Control 2012 which takes place in Stuttgart, Germany, from 8 – 11 May 2012. Products demonstrated include high speed five-axis measurement systems, a new automated versatile gauge, and a new rotary axis calibrator.
PH20 5-axis touch-trigger system
In hall 3, stand 3304, Renishaw will be showing the PH20 5-axis touch-trigger system for coordinate measuring machines (CMMs), which increases touch-trigger probing throughput up to three times, using fast, infinite, rotary positioning and unique "head touch" capability for high-speed point capture. The PH20 uses two-axes of head motion to minimise CMM movement and associated dynamic errors at higher measurement speeds. Its unique "inferred calibration" feature determines head orientation and probe position in a single operation, eliminating the need for calibration at each orientation.
SFP1 surface finish probe
Renishaw has now added a new probe option for its revolutionary REVO® five-axis measurement system, which for the first time, allows surface finish inspection to be fully integrated within CMM measurement routines. With a measurement capability of 6.3 to 0.05 Ra, the SFP1 surface finish probe provides a unique 'single platform' that will eliminate the need for hand-held sensors, or the necessity to move parts to costly dedicated surface finish measuring machines, reducing labour costs and inspection lead times. Using REVO, CMM users will now be able to automatically switch between part scanning and surface finish measurement, with analysis all contained in a single measurement report.
MODUS™ metrology software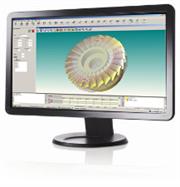 Also demonstrated at Control 2012 will be Renishaw's latest version of its MODUS metrology software, which simplifies sophisticated measurement with increased capability, enhanced flexibility and maximum productivity. MODUS provides a powerful platform to develop and run inspection programs, including full support for Renishaw's 5-axis measurement technology. It provides a powerful range of programming functions, both offline and by the CMM, supported by an easy to use interface that assists with measurement best practise. It is built on industry standards, including the I++ DME protocol, native DMIS and a Microsoft® SQL Server database. This ensures maximum interoperability with existing programs, reports and enterprise systems.
CMM retrofit
Renishaw will also highlight its certified coordinate measuring machine (CMM) retrofit service to upgrade existing machines to state-of-the-art capabilities, including the REVO and PH20 five-axis systems. The comprehensive Renishaw Retrofit™ service applies to all brands of machines and enables manufacturers to raise CMM throughput by factors of three, four, five and more, increase measurement automation, collect more data points for form measurement, and utilise open source software and future probing technology developments.
Equator™ - the versatile gauge™
Also on show will be Equator, a radical new alternative to traditional dedicated gauging, filling a gap in the market never before addressed. Its patented design, unique in construction and method of operation, is capable of high-speed comparative gauging for inspection of high-volume manufactured parts. It has been developed and proven on the shop-floor in collaboration with industry-leading companies in multiple industries and applications.
XR20-W rotary axis calibrator
Visitors to Control 2012 will also see Renishaw's new XR20-W rotary axis calibration system, which works with the market leading XL-80 laser interferometer system to allow the measurement of rotary axis positional accuracy to within 1 arc second. Totally wireless operation and modular mounting systems ensure suitability for a wide range of machines. The XR20-W supersedes the Renishaw RX10 which established benchmarks for accuracy, repeatability and automatic operation.
All images and text copyright Renishaw
Register for news updates
Register for regular news updates from Renishaw